It's 4.30 a.m. and Monet Spencer wakes up, scoops Maxwell House into a coffee maker and waits for the air to fill with the aroma she remembers from breakfasts in her late mother's kitchen.
Wrapped in that comfort, she starts her long day. She'll catch two buses and a trolley to get from her Hill District apartment to Brashear High School, where she's a senior taking computer science and AP English classes and playing flute in the band.
She hears her classmates grumble about perceived hardships like broken phones or difficult tests.
Monet has no time for those complaints.
She knows real hardship.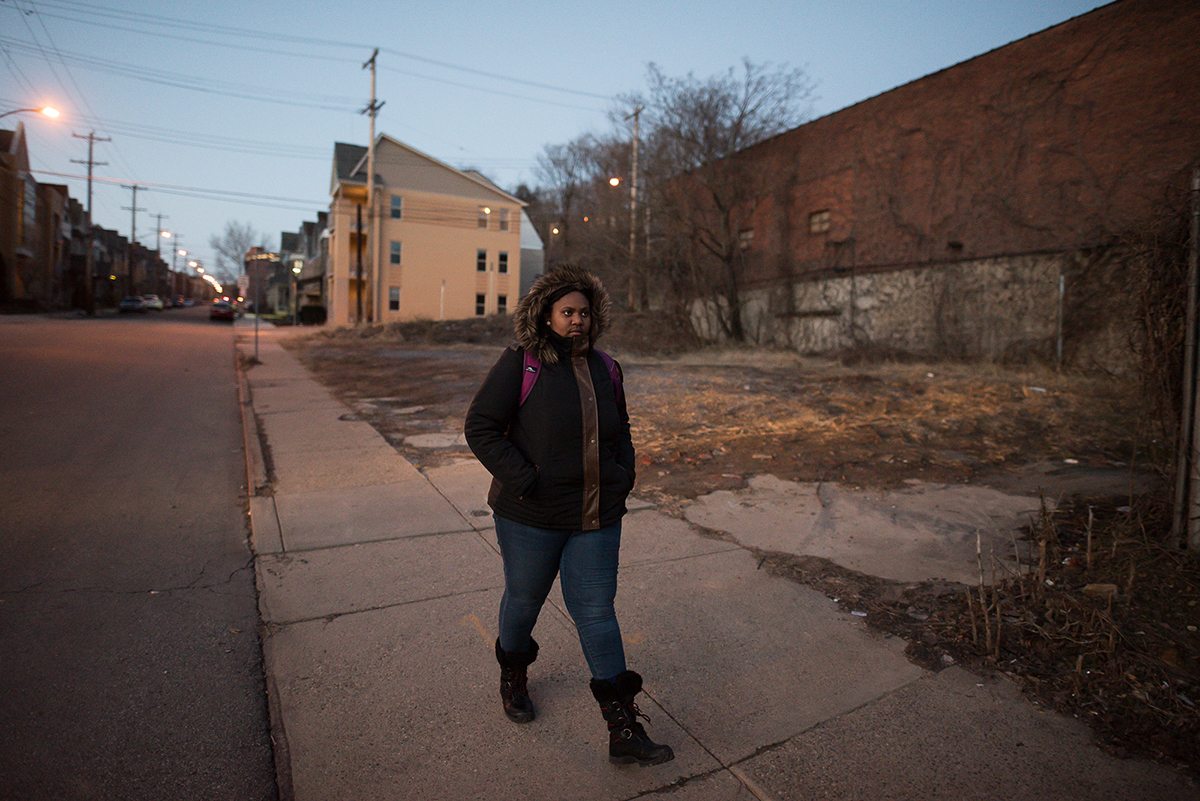 Since February 2016, she's lost her mother, her home, her way of life. She now lives alone in an apartment subsidized by the nonprofit ACTION- Housing while she finishes high school and tries to figure out where she will live after graduation.
At 18, Monet is, at once, an adult managing her own life and a teen sitting in her living room watching cartoons and hugging a stuffed penguin she won at Kennywood.
"I feel like I'm stuck. I'm mature beyond most. When I try to talk to someone about it, they think that being by yourself is such a great thing," Monet said.
She's stoic as she keeps close her feelings about the loss of her mother, silly as she giggles with her best friend over YouTube videos or stories they've written.
And she's moved from secrecy about her personal life to serving as a mentor to other homeless students, telling them she's been in their shoes and didn't let it define her.
Monet is among about 600 students identified this school year by Pittsburgh Public Schools as homeless, a number expected to grow to 800 by year's end. Under the federal McKinney-Vento Act, homelessness is defined as lacking "a fixed, regular and adequate nighttime residence."
Her story is extraordinary among that group. Most of those students, while living in homeless shelters or doubled up with relatives or friends, are with their families, said John O'Connell, director of student support for the Pittsburgh Public Schools.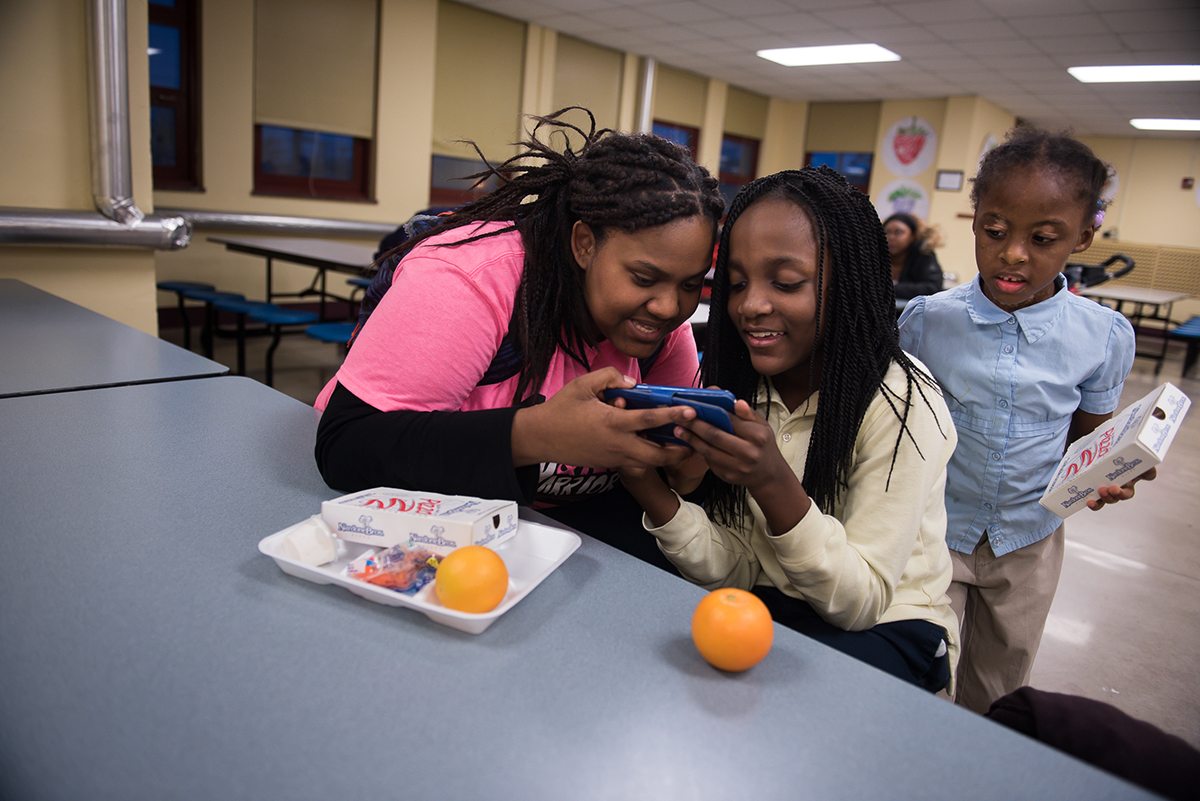 "Overall, I just think her story is an amazing one. One of resilience, perseverance and not giving up," said Kashif Henderson, coordinator of gifted and talented and AP programs at the Pittsburgh district.
Even before the death of her mother, Charlotte Wallace, Monet drew from her well of perseverance as she took on responsibilities of running a family household as her mother's diabetes worsened.
Three older sisters lived on their own and Monet's father, who had been in and out of her life, left for good when she was 14.
At age 15, she learned to pay rent and utility bills, grocery shop and give insulin shots to her mother all while doing her homework, practicing flute solos and sketching Anime cartoons.
She also managed her asthma, once taking a Port Authority bus to the emergency room during a severe attack.
"I had to go to school and figure out how to pay bills. My mom had taught me. She laid them out on the table and showed the due date, how to make a money order," Monet said.
The process scared Monet. "I thought she knew from the beginning that she was not going to be here."
Then the fear became her reality.
Monet is now living at ACTION-Housing's MyPlace Youth Program where she is responsible for attending school and handling her own meals, laundry and apartment cleaning.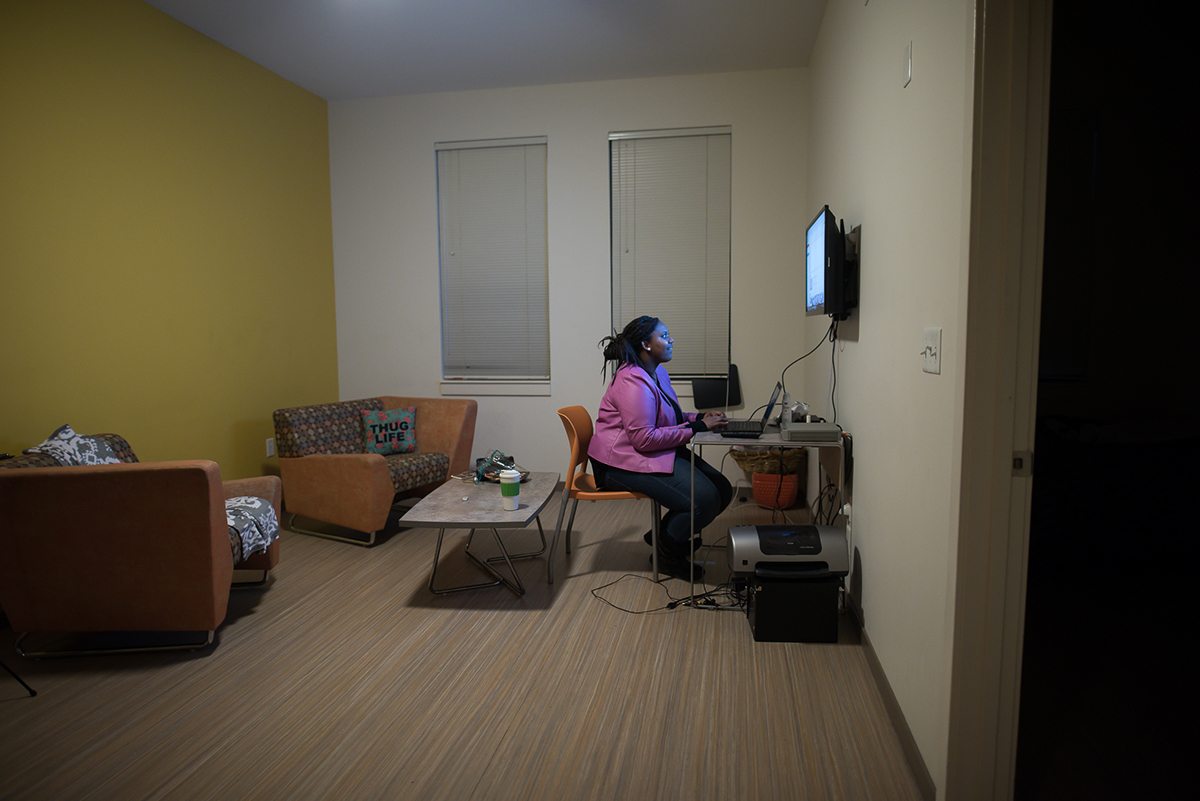 She invites her friends from school to visit and they think it's cool that she has her own apartment.
"I have to give them a reality check," Monet said. "I pay my own expenses. You think this is all fun and games. What if my coffee maker breaks? My microwave? I have to pay for it. I have to pay my phone bill, my rent and for my necessities."
She earns about $100 every two weeks as a tutor in the Neighborhood Learning Alliance's after-school program at Pittsburgh Miller preK-5. From that she pays $50 a month for rent. She gets funds for food through the Supplemental Nutrition Assistance Program.
Each weekday after school, Monet reverses her trek, taking a school bus, trolley and Port Authority bus back to the Hill District, where she heads to Miller.
On a February afternoon, Monet tries to get a group of eight students to listen to passages from a black history story book. As she reads aloud about Rosa Parks, the students squirm on their carpet squares.
When they are unable to answer follow-up questions, Monet patiently tells them she will read the story again.
"If you guys were listening, you'd know who it was. What is wrong with you today?" she asks.
Minutes later she gives in to the students' requests to move to a nearby craft table.
"This is why I like computers. They do what you tell them to," Monet deadpans after the kids are gone.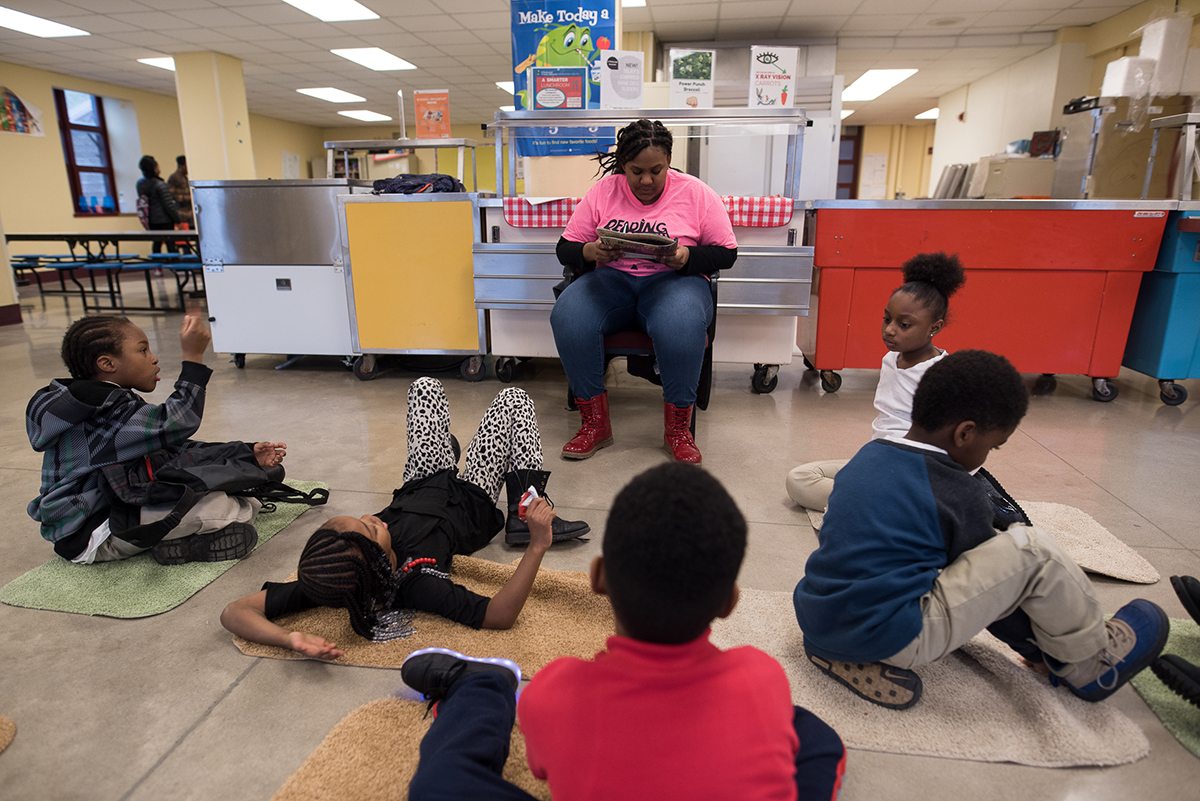 Each day the students are given a hot meal before they leave. Monet eats pizza with them rather than making dinner and eating alone at home.
The walk from Miller to her apartment is a little more than a mile downhill.
When she arrives, she finds her sparsely furnished, neatly-kept apartment quiet and still. She knows it's time to face homework and flute practice. But in the solitude she's tempted to pull out the sketchpad her mother bought her.
Is she lonely? "I'm just so tired I don't think about it."
But she thinks about her mother. A lot.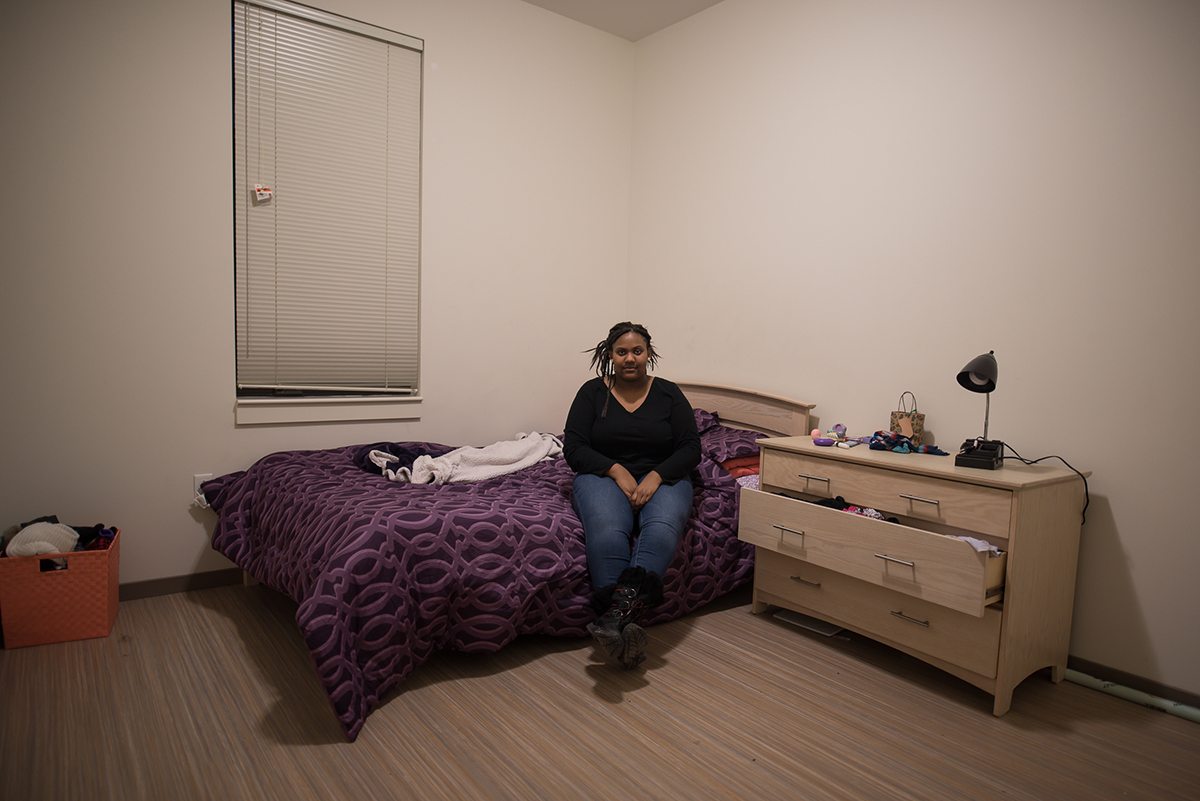 She shows a reporter a bouquet of flowers she sketched and laminated and took to her mother's hospital and nursing home rooms. "She loved it, she loved it," Monet said.
She also shares a sketch of a human eye with a teardrop she made the day her mother died, Feb. 25, 2016, at the age of 43. She writes letters to her mother, but isn't willing to share them.
"I'm not ready for that," she said in a voice barely audible.
Drawing has been an emotional release for Monet and a familiar routine she's been able to bring along to her new life.
She recounts how things were before her mother's illness started to break her world apart.
Her mother worked as a housekeeper at a local hotel until neuropathy in her feet made her a fall risk and forced her to give up her job. Still, Monet, her mother, twin brother and chocolate lab Rosie were an intact family living on public assistance in an apartment in Allentown.
Monet and her brother were both good students, and her mother held out hope they were college material.
It was sophomore year when things started to change.
A toe infection led to an amputation for her mother. A long hospitalization and complications followed, including a stroke that caused her move to a nursing home.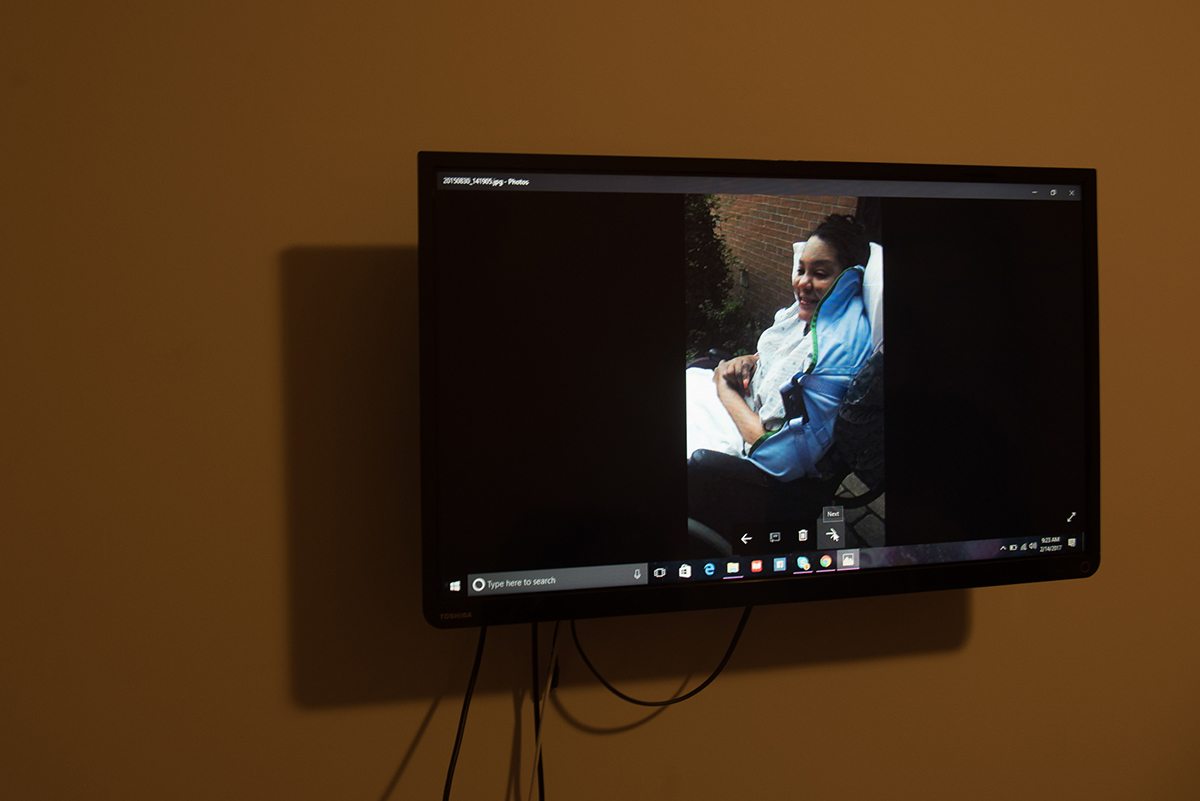 For the better part of a year that Monet's mother was in the hospital and nursing home, Monet and her brother continued to live in the Allentown apartment, with Monet continuing as best as possible to pay bills with their mother's public assistance funds.
By her own admission, the apartment was "filthy" and the siblings made bad decisions and fought.
Monet would argue they should buy food from the grocery store. Her brother wanted snacks and takeout food.
"There were times when we just spent the money. We were teens. We didn't eat regularly. We didn't go shopping. We ordered out," Monet said.
Once they failed to pay the electric bill and the power was turned off.
During this time, Monet's school attendance was erratic. When she showed up at school, Monet wore dirty clothes and didn't fix her hair.
That caught the attention of Debra Smallwood, who was working as a graduation coordinator for the Neighborhood Learning Alliance at Brashear. Monet and Smallwood's daughter Maya became friends in a freshman algebra class.
Smallwood repeatedly asked Monet if she was having problems. But Monet kept her guard up, insisting everything was fine.
"She kept it hidden," said Smallwood, a retired Army sergeant, who now works for the Homeless Children's Education Fund.
Monet feared if school officials found out about her situation she and her brother would be placed in foster care. She was determined to keep the apartment and the family together holding onto the hope her mother would recover enough to rejoin them.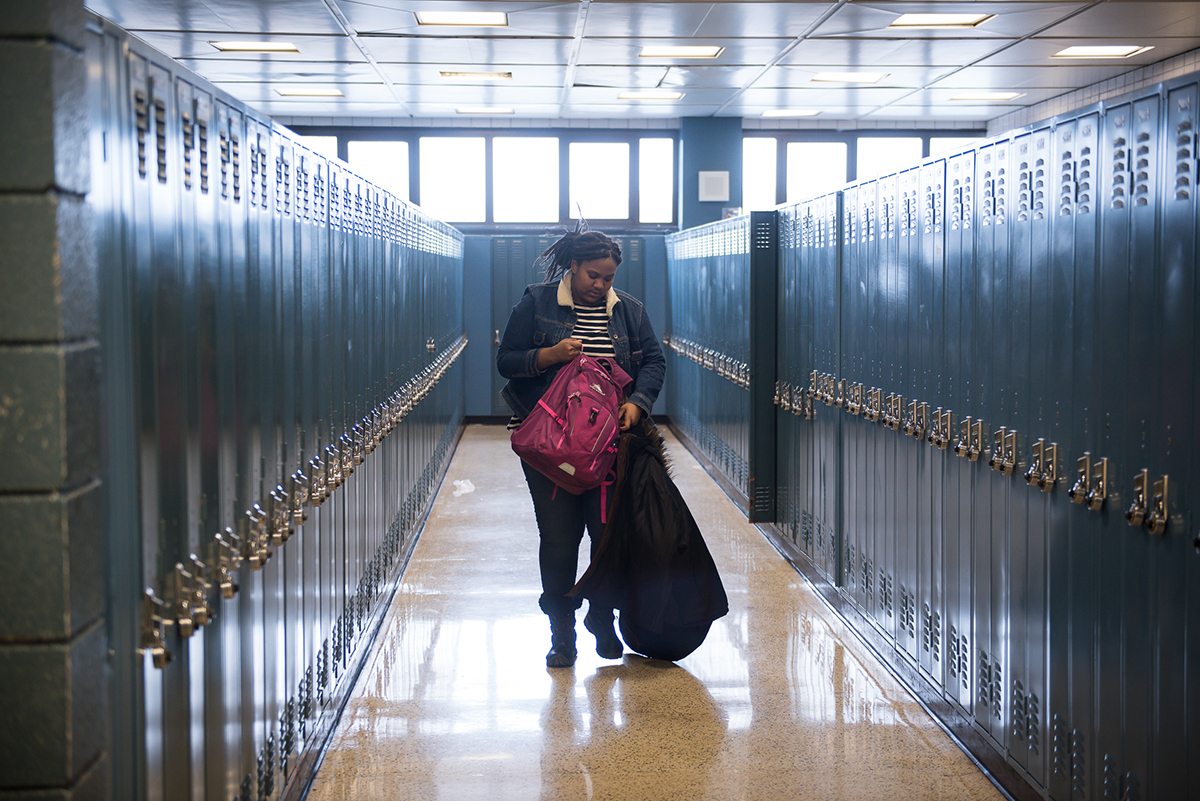 But then came the asthma attacks brought on because Monet couldn't afford her daily medication or rescue inhaler and because her brother smoked in the apartment. After a severe attack left her in the hospital for weeks, she knew she couldn't return to her situation so she opened up to Smallwood at Maya's urging.
Smallwood took Monet into her home, thinking it would be a stopgap measure while she contacted social service agencies for help, but none came quickly. Then Monet's mother died.
Monet stayed with the Smallwoods through the summer until her apartment became available in September. During that time, Monet tried to help her brother and encourage him to return to school. He dropped out.
"It was my mother's wish for me and my brother to go to college. I had to realize that my brother doesn't want that," she said. It's still a painful topic for Monet.
In the summer after she lost her mother, Monet participated in the Neighborhood Learning Alliance summer program that allowed her to take a course at Carlow University. Completing a college course in human resource management had her believe, for the first time, she could attend college.
"That was when I started to think that I could do this," Monet said.
Howard Stern, a management professor at Carlow, who taught Monet's class was unaware of her personal situation until she completed the course.
"She always did her work and it was all quality work," Stern said. "It was a testament to her maturity, her persistence and her intelligence that she was able to not only complete the course but succeed and excel."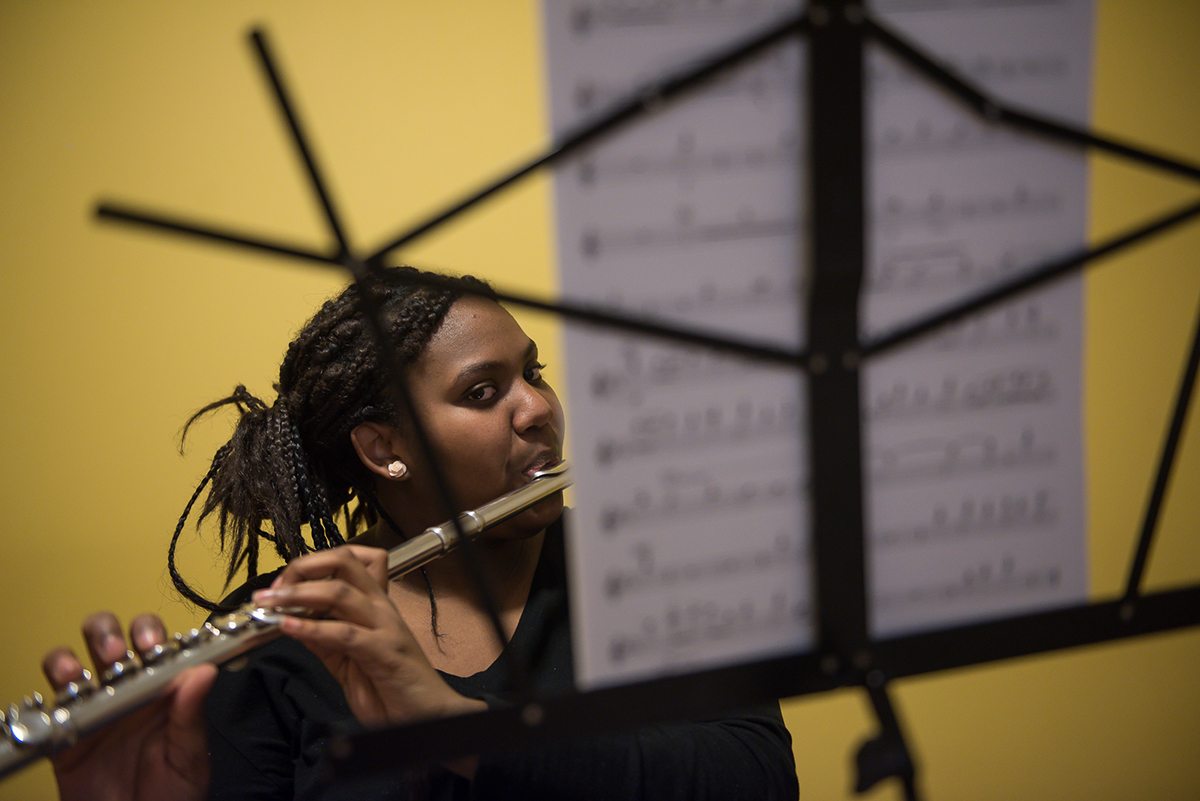 When she returned to Brashear in the fall, teachers noticed a new sense of confidence in her.
"She's really grown into herself this year," said Todd Bushyager, Brashear's band teacher." She really changed. Her assertiveness. The way she approaches her work. The way she approaches other students."
Monet recently found out she's been accepted to Carlow, where she applied after the summer program. She earned a $2,000 yearly renewable scholarship to Carlow from the summer program.
Now, with Smallwood's help, she's applying for state and federal financial aid and other scholarships. She also hopes to qualify for up to $7,500 from the Pittsburgh Promise.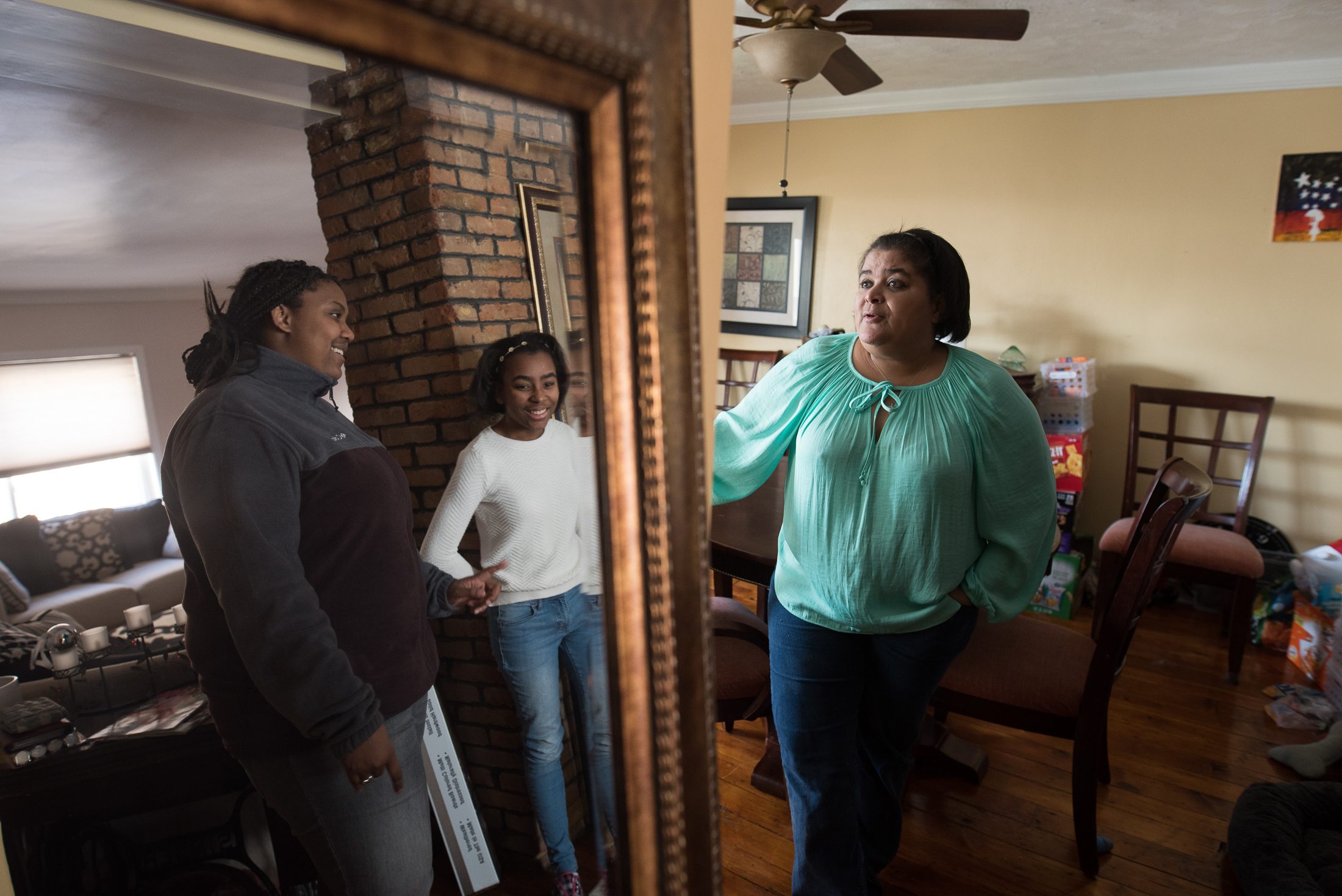 With the cost of living on campus at about $10,000 each school year, Monet is exploring other housing options that would be less expensive and be available year-round. She has to leave her current apartment provided through the MyPlace program, but she can apply for other ACTION-Housing sites. But the housing locations are scattered and then transportation could become a bigger problem.
Monet doesn't know what she wants to study at Carlow, though she is leaning toward business. But she's certain her mother would be proud of her college acceptance. She'll use that belief to propel herself to success.
Smallwood said she's told Monet she doesn't have to look to the future for success.
"I tell her you are a success story already. You survived."
Reach Mary Niederberger at 412-515-0064 or at mary@publicsource.org. Follow her on Twitter at @MaryNied.