Giving birth in eighth grade propelled Dezmaire Baker into an adult life filled with enormous responsibility.
At age 15, she was changing diapers and preparing bottles for her infant son, Dorian, who was born in April 2015.
Just a year earlier, she was a seventh grader at Woodland Hills Junior High School, playing the clarinet and trombone, hanging out with friends and hoping to try out for the cheerleading squad.
Now 17 and a sophomore at Woodland Hills High School, she spends her days in class and her afternoons and evenings caring for Dorian. There is barely time for homework, let alone extra-curricular activities.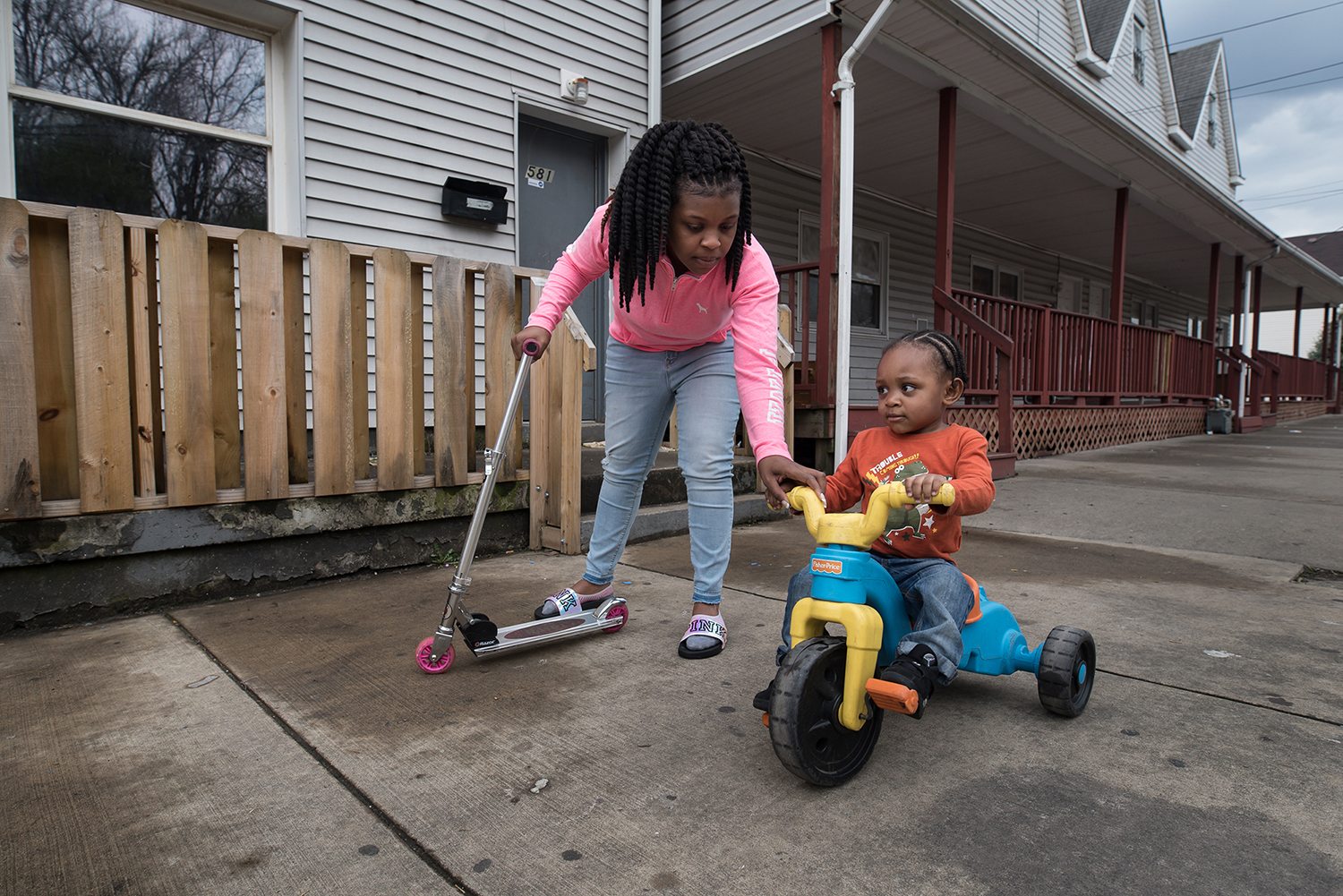 She loves her son. But she knows her life would be far different if she hadn't gotten pregnant.
"I'd probably still be playing the trombone. I really wanted to do cheerleading. I'd probably have a little job. I'd probably just be doing me," she said.
"Now I have to make sure my son is cool before I am. I've had to step up way [before] my time."
Nationally, the overall teen pregnancy rate declined by more than 50 percent for females younger than 20 from 1991 to 2013. A similar decline occurred in Allegheny County.
But as a black girl, Dezmaire is part of a cohort that experiences more teen pregnancies than its white counterparts.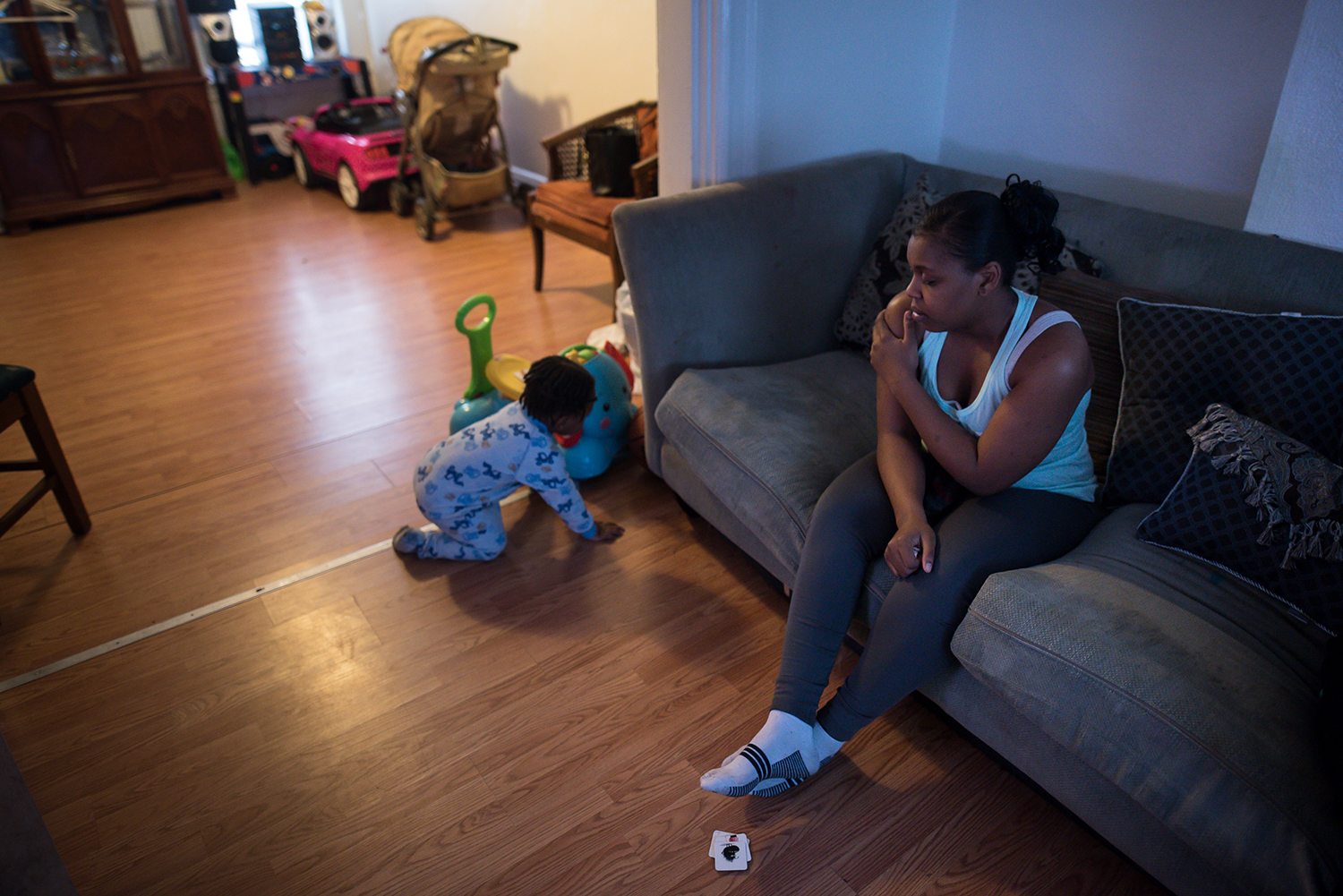 From 2011 to 2015 in Allegheny County, 2.4 percent of births to white females were to those younger than 20, while 13 percent of births to black females were to those under 20, according to Pennsylvania Department of Health statistics.
Dezmaire shares other commonalities with teen moms, such as living in poverty — her family spent five months in a homeless shelter in 2015 — and the fact that her mother was a single teen mom when Dezmaire was born.
But there's one common outcome she's hoping to beat.
The National Campaign to Prevent Teen and Unplanned Pregnancy shows that among girls who have a child before age 18, just 38 percent get a high school diploma by age 22.
If you believe that statistic, Dezmaire is at risk for dropping out of high school and raising her son in poverty.
But those aren't her plans.
"Since I had my son, I really need to do what I need to do so that we can be OK," she said.
To that end, Dezmaire is a participant in the Allegheny Intermediate Unit's Project ELECT Program, which helps low-income pregnant teens and teen parents focus on education, training and employment goals. The program provides child care supplies and support services, such as lessons on parenting skills and connections to social service agencies.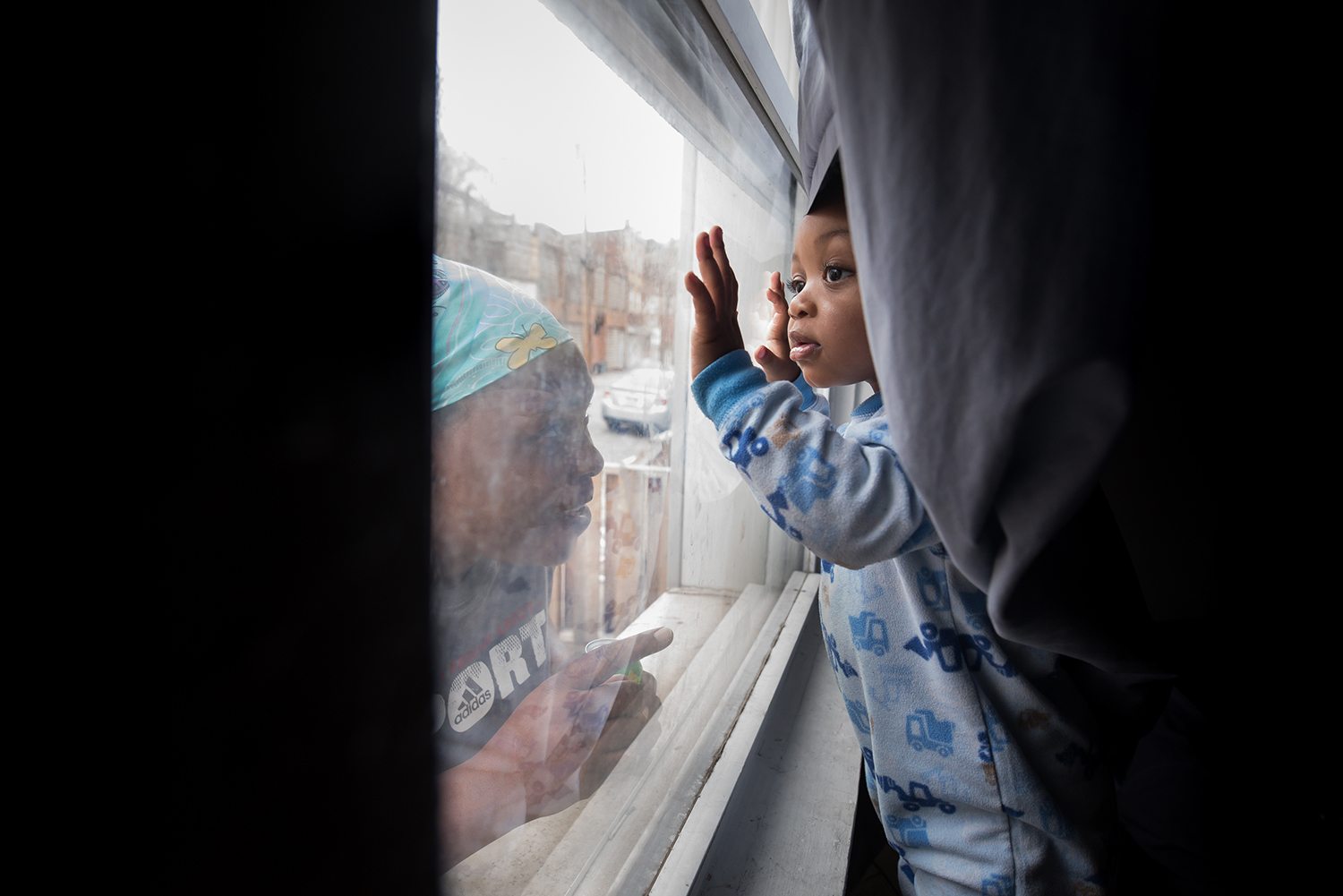 It also helps teen mothers to prevent a second pregnancy until after graduation by connecting them to family planning services. Lynn Tatala, coordinator for the AIU's Project ELECT, said most of the young women choose long-term birth control.
Project ELECT, which stands for Education Leading to Employment and Career Training, is funded by the U.S. Department of Human Services, overseen by the state Department of Education, and operates in the Clairton, Duquesne, East Allegheny, Penn Hills, the West Mifflin Area, Wilkinsburg, Woodland Hills and Sto-Rox school districts.
Pittsburgh Public Schools also has an ELECT Teen Parenting Program in which 90 teen moms and 25 teen dads participate and the McKeesport Area School District has an ELECT program with 19 participants.
The program, in existence since 1990, serves students for all of their high school years and for 120 days following graduation.
"For most of the kids, it's just about getting to a place where they can be consistent coming to school and to meet the needs of their child and meet the needs of doing their work for school," Tatala said.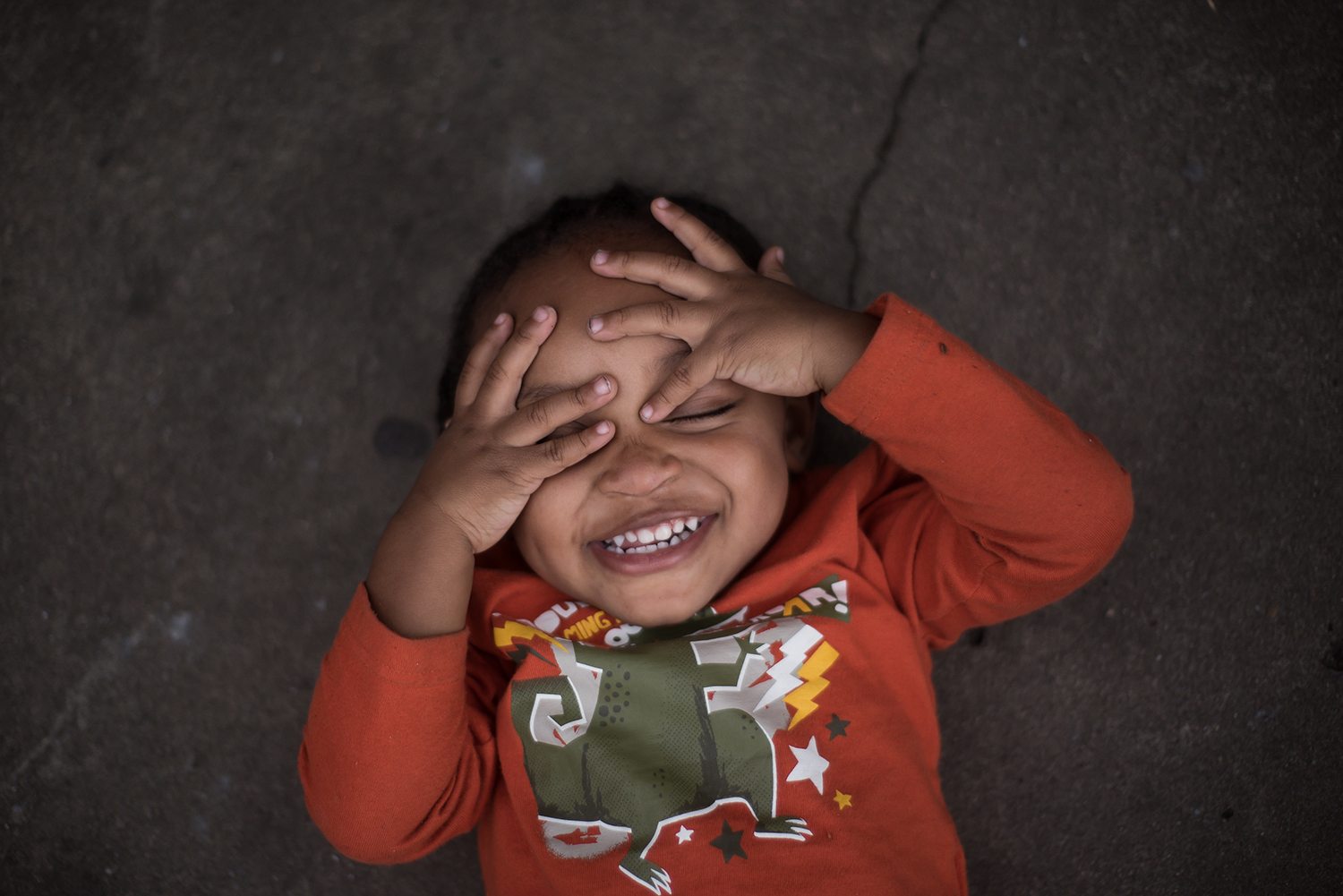 The teen parents set goals for education and employment. Those goals can include meeting with teachers to resolve unfinished schoolwork, applying for a child care subsidy, identifying or taking steps to get a job and scheduling pediatric checkups.
They are rewarded with incentives that range from diaper wipes to clothing and child-care items such as car seats or portable cribs. More recently, Tatala said, participants are asking for basic clothing items. Dezmaire recently earned a pair of Vans tennis shoes for meeting multiple goals.
"Kids who are getting pregnant seem to be a lot needier," said Tatala, who has worked with the program for 15 years.
The AIU program is funded to serve 75 students per year, but the number is closer to 50, including 10 teen dads, Tatala said. The funding is based on state Health Department statistics by age of the mothers in the districts and communities served.
In 2015, there were 461 females younger than 20 who gave birth in Allegheny County — a total that dropped from 757 in 2011, according to the state statistics.
Nearly all of the participants in Project ELECT are referred by a school nurse, guidance counselor or social worker, Tatala said. A small number come through one of the AIU's 10 Family Support Centers.
She said cyber school programs, which some teen parents choose over traditional school, make it difficult to identify some who could benefit from the program. Another challenge to finding teen parents is that the population tends to be transient.
Such is the case with Dezmaire whose family moved from the Woodland Hills School District to McKeesport before she started eighth grade. Shortly after Dorian was born, she moved in with an aunt in Wilkinsburg, while her mother was hospitalized for depression.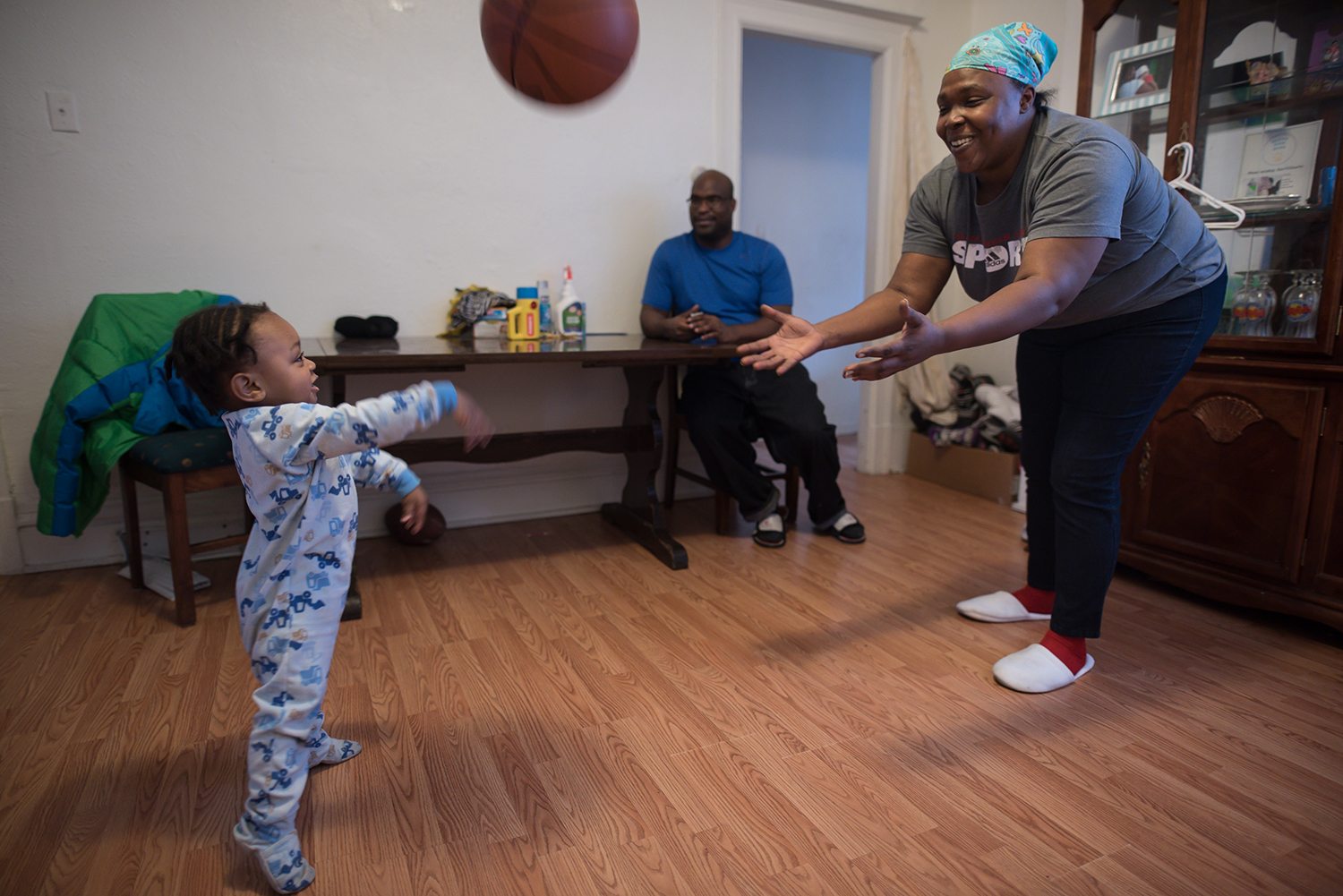 Later the family lived in a Hill District homeless shelter for five months before finding housing in Rankin, allowing Dezmaire to re-enroll in Woodland Hills for ninth grade. In the past year, the family moved to Braddock, where Dezmaire lives in a rowhouse with her mother, Ronnika Baker, Baker's boyfriend Wesley Francis, and Dezmaire's 13-year-old brother and 6-year-old sister.
Dezmaire's mother watches Dorian while she is in school and his paternal grandmother, Romana Santiago of East Hills, often takes the toddler on weekends to give Dezmaire a break.
"I do want her to have friends and some free time," Santiago said. "She's a very good parent. She keeps very good watch over him. I'm very proud that she's staying in school."
Santiago said Dezmaire is a much better parent to Dorian than his father, her son. But she holds out hope he will grow into the role. "I'm teaching him every day. He's a little different from Dezmaire."
Dezmaire's watchful eye was evident during a family gathering for Dorian's birthday earlier this month.
While family and friends gathered on the sidewalk outside of the Baker home, Dorian toddled around and rode on a small tricycle. As his mother socialized, she kept an eye on the energetic boy, calling to him any time he got near the street or tried to climb into one of the partygoers' cars parked nearby.
It's also clear to see Dorian's attachment to his mother. When he tripped and bumped his head, his eyes scanned the room of relatives for his mom. It was Dezmaire's hug he sought to ease the pain.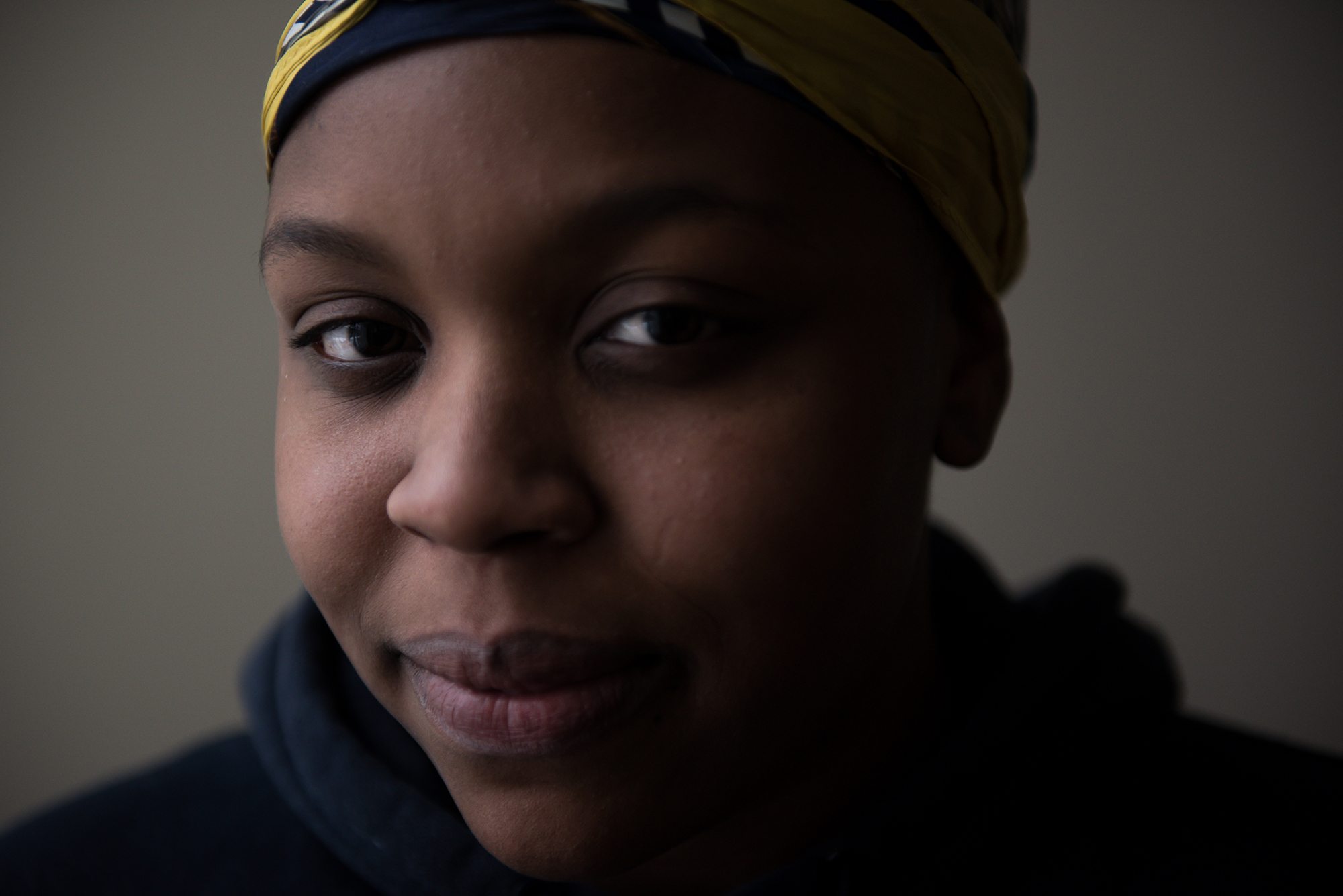 Dezmaire's caseworker, Jodi Reimers, said Dezmaire is "in the top 10 percent" of the teen moms she has supervised in the Project ELECT program.
"She knows she's in this. She wants to do this for herself and her son and she's not really trying to depend on anybody. She definitely is trying to come up with plans and [is] using the resources available to her," Reimers said.
Reimers said Dezmaire completes all of her assignments for the Project ELECT program. A recent lesson was formulating a budget to figure out how to pay for necessities before luxuries.
Dezmaire knows her route to success would have been smoother if she was not a teen mom.
She says she didn't know much about birth control or how to get it, a factor in her unplanned pregnancy. She thinks schools should provide more information on birth control and how to get it.
But, when discussing her pregnancy, she blames only herself.
"I knew I could get pregnant. I was having unprotected sex without a condom," Dezmaire said. "I felt like I couldn't get pregnant."
Her boyfriend left her when he found out she was pregnant.
Gunshot victim
Having Dorian wasn't the only life-altering event in Dezmaire's young life.
Shortly after Dorian's first birthday, Dezmaire was shot in the foot while at a gathering with friends at a home in Swissvale. Someone in the group waved around a gun. It went off suddenly and the pain in her foot told Dezmaire that she had been hit.
In shock, she tried to walk home, but couldn't make it. A member of the group called 911 before they scattered, leaving her alone.
The experience landed Dezmaire in the hospital for a month and off of her feet for three months. Even after recovering, the accident left her with a sometimes-crippling worry. What if something happens to her, something that would leave her son without a mother?
"Every time I go somewhere I want to make sure I'm gonna be cool and safe. Now I'm scared of everything," she said.
That fear, she said, helps her to stay focused on her son and the things she needs to do to be able to raise him in a safe environment.
She's committed to staying in high school and perhaps attending a postsecondary program to become either a hair stylist or medical assistant.
But, at times, it's a struggle.
"Sometimes I don't have enough time. I use study hall in school to finish my work," Dezmaire said. She also stays up until about 11 p.m. to get her work done, including a recent Black History month project that included a two-minute video on the Harlem Renaissance.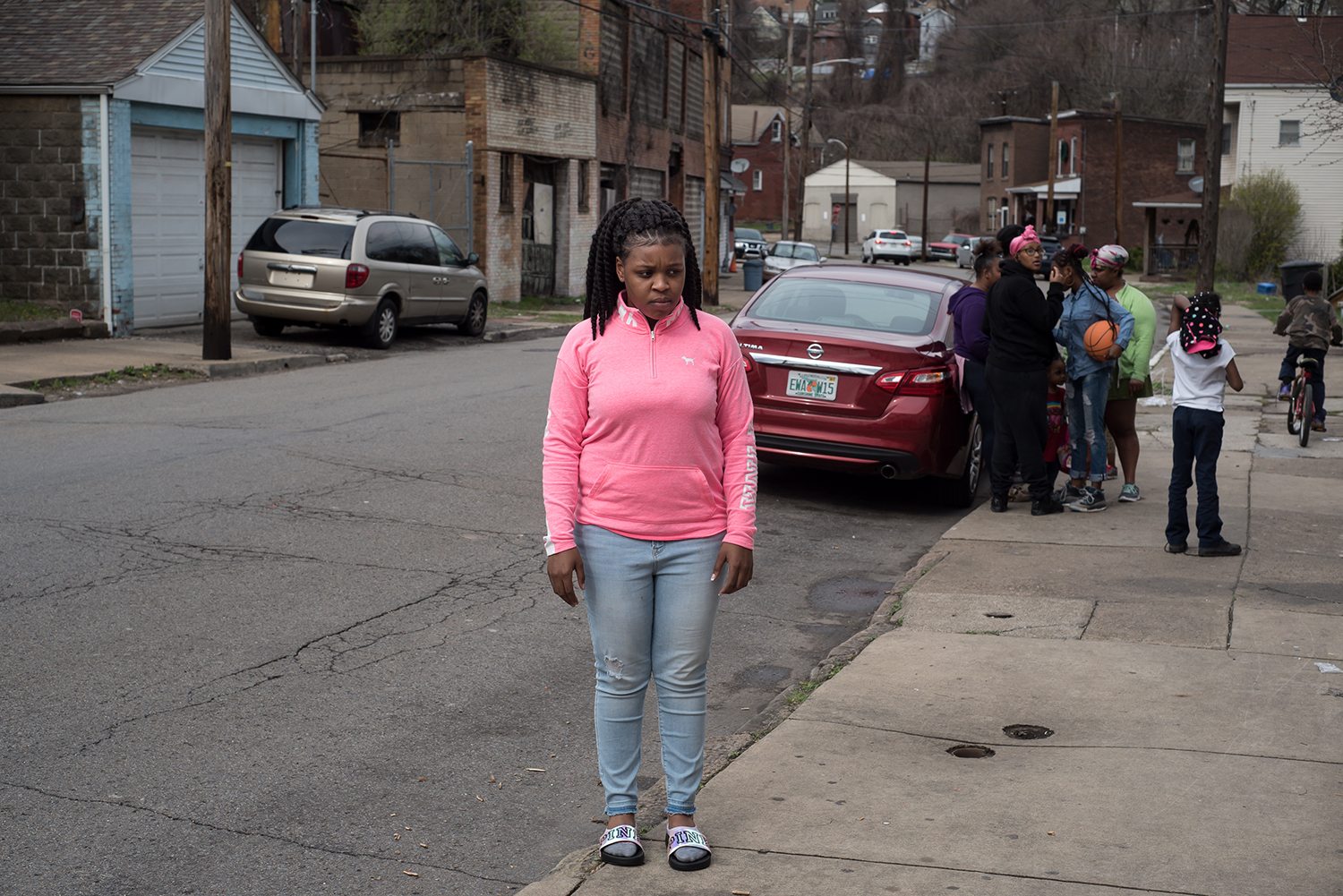 Baker said she was disappointed when Dezmaire got pregnant. She had advised her daughter to not get pregnant, to get an education and a good job, so she could be financially independent. She warned her daughter that if she got pregnant as a teen, her life would be harder. Baker had suggested an abortion, but Dezmaire refused. "I had seen videos about abortion. I didn't want to do that," Dezmaire said.
She watched abortion videos on YouTube while trying to make her decision.
So Baker, who grew up in foster care, decided she would provide whatever support Dezmaire needed in raising Dorian.
Baker still has high hopes that her daughter will graduate from high school and find a profession that allows her to provide for herself and her son.
Dezmaire's advice to other teens is to avoid getting pregnant.
"I think you shouldn't because it's hard," Dezmaire said. "You have to have somebody to help you. Even with a support system, at the end of the day, I'm the only one who is the mother of my child. If you know you still want to be a kid, you shouldn't have a kid."
Reach Mary Niederberger at 412-515-0064 or at mary@publicsource.org. Follow her on Twitter at @MaryNied.