Dezmaire,
I hope my story reinforces your purpose and bolsters your RESILIENCE.
Here it is:
I open my eyes slowly in a groggy haze. An image of my grandmother and uncle come into focus. My grandmother to the left, with her purse under her arm, and the other hand on the foot of the bed with a look of sorrow and disappointment. My uncle standing to the right, "Hey, Brandi," he says with a look of concern. Out of my periphery appears a white blur closer to my side, and I feel a hand touch the upper part of my wrist. There is a voice, "Brandi…Hon, do you know where you are? Do you know why you're here? You're in Presbyterian Hospital. Do you remember what happened, what brought you here?"
And it all came back to me. The events on the day of June 17, 2008, replayed in my head just like a commercial rewinding in high speed.
What I thought I knew on June 17, 2008, was that life wasn't supposed to be this difficult and trying. That my child was not supposed to exemplify behaviors of ADHD and ODD [attention deficit hyperactivity disorder and oppositional defiant disorder]. I was not supposed to be in a two-bedroom home without furniture in the middle of my childhood neighborhood at the age of 35. No, why would I have left a beautiful two-bedroom, two-bath luxury apartment and a respectable job in (the Mecca of the South) Atlanta, Georgia. I was not supposed to be going through this alone, without the support of my mother or siblings, without a significant other. Where were these people in my life? And why did everyone around me appear to be doing so much better? What I thought I knew was, life was NOT supposed to be this damn hard. What I thought I knew was my daughter, my grandmother, my mother and all of my many friends would be much better off WITHOUT me. Through the creation of my "own" story… I decided to take my life.
You will be able to raise your son in a prosperous and thriving environment; you will be able to provide the best for him and, yes, you will SURVIVE.
As children and young adults while being black females, we have compiled situations that we experienced, endured and learned to accept and subconsciously live with early in life. We don't knowingly agree to turn our initial shock of trauma into norms. It's a part of our innate reflexes, cultural habits and society that minimizes the effects of these incidents. But we learn to forge on and force our healing into a hidden place.
We begin to heal and one would say self-medicate, using unhealthy coping mechanisms because that's all we know and it brings us temporary happiness. I know those mechanisms all too well. I've coped and experienced them all, from promiscuity to experimenting with drugs, drinking, gang affiliation and so forth. We look to those unkind habits for a sense of security and belonging.
It's our lack of feeling safe and fitting in or being appropriately loved that causes us to doubt our self-worth. These missing pieces are the foundation of Maslow's Hierarchy of Needs. Please understand, though, that nothing that has happened thus far in your life was your fault. Unfortunate things have happened "to you." At some point, people and systems have failed you. But you will push through. You will be a great mother. You will be an educated black woman. You will discover your destined path and be the best at it. You will be able to raise your son in a prosperous and thriving environment; you will be able to provide the best for him and, yes, you will SURVIVE.
You'll begin to surround yourself with people who genuinely care and support your life goals and journey for peace and stability because it feels right. People crave to be in the company of those who provide positive outlooks on life despite the many obstacles. Through those relationships, you'll be able to piece together a guide (for a lack of better words) to not only survive but thrive.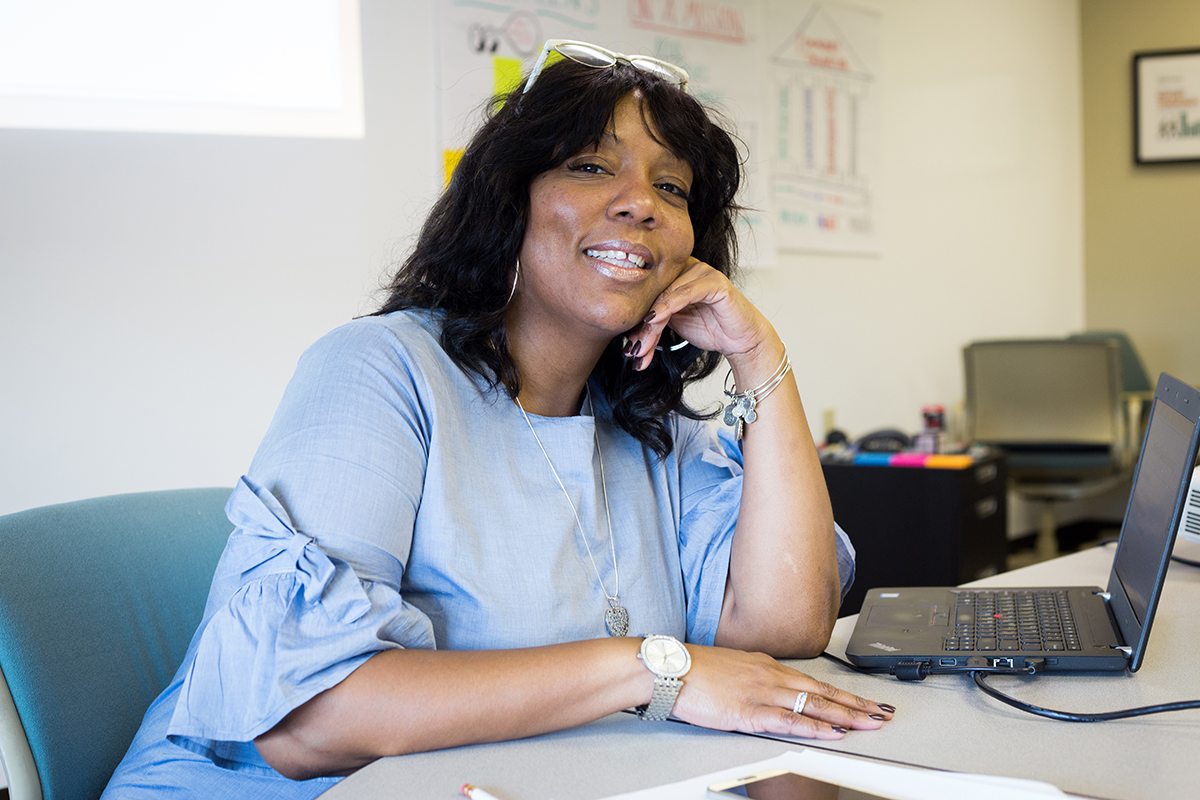 In your darkest moments, when you feel like life has been and still is unfair, when you feel as if you can't muster up enough energy to get out of bed and go to school another day, you will draw strength from both your son's smile and his open arms needing a hug from his mother.
When I began this letter, I started off with me laying in the hospital bed with a faint memory of a nurse asking me if I knew where I was and what had brought me there. That moment that I describe, that day that I often remind myself of was the last attempt I made on my own life after several attempts throughout the years. What I remember distinctively, as a first response was "Awww, damn…I'm still here." Then God speaking to me as clear as I'm writing to you… "This is it, when you get up, you better make a difference. I have you here for a reason."
Needless to say, I had no earthly idea what the reason was or what my purpose was that day. When I got up out of my hospital bed on June 18, 2008, to attend a court hearing that would determine if the APPLICATION FOR INVOLUNTARY EMERGENCY EXAMINATION AND TREATMENT, known as Mental Health Procedures Act of 1976 Section 302, would be accepted. It would deem me "severely mentally disabled," a status someone gets when they are a danger to themselves or others.
I vowed to NEVER be in this position again. This was my last time allowing life experiences, financial worries, lack of quality parenting skills, my daughter's misconduct, inconsistent relationships or backstabbing friendships to determine my life's path or happiness. I was going to pick myself up once again and make my next move a bulletproof, point-of-no-return, it's-me-or-you move.
I never looked back.
I experienced more trials and tribulations over the next couple years, butI had begun to develop that guide I spoke about earlier. The one that provided steps to picking myself up after making mistakes. The one that would snap me back into reality about making better choices, being a better mother and NEVER giving up. Only because of what I had gone through I understood that I had to get through. God doesn't waste any pain. He used that situation to motivate me into another place. I had begun to surround myself with people that fed me encouragement. I had distanced myself from my triggers. I also began to take my mental health diagnosis seriously and sought professional care just as if I had been diagnosed with a form of cancer. I remember clasping my hands together and saying…Let's do it. If this is what it is, how do I manage this thing? Because it damn sure can't manage me.
Life by no means has let up on its challenges. But when I discovered I could be better and stronger and that my daughter needed me even if I was a work in progress, I began to make choices that created a better life. It all began at the end on June 17, 2008, when I made the choice to simply live.
"Owning our story can be hard but not nearly as difficult as spending our lives running from it. Embracing our vulnerabilities is risky but not nearly as dangerous as giving up on love and belonging and joy – the experiences that make us the most vulnerable. Only when we are brave enough to explore the darkness will we discover the infinite power of our light."
-Brené Brown
Stay permanently focused, purposely aligned and forever loyal. You're built for this.
Brandi Taylor is a training manager and a restorative practice trainer. She can be reached at taylorbrandi72@gmail.com.